Zouk Singapore Address and Contact Number
and
Address
is
Zouk is a
Famous
night club in Singapore
Famous
for swagger and seasoned moves. The night club is opened in the year 1991.Zouk has placed Singapore on the world dance map.
Zouk has three interconnected clubs. Zouk has a spacious dance floor with great sound effects. The Velvet Underground was opened in 1994 is a quiet and relaxed lounge. This floor plays house and soul.Phuture is an experimental or innovative bar that portrays broken beats and hip-hops.
Zouk has introduced Asia's biggest music and dance festival and the event is known as 'Zouk Out'. Zouk Out is held every year in Singapore since 2000.The event has won "Best Leisure Event Experience Award" given by Singapore Tourism Board three times between 2005 and 2008.
Zouk is
Famous
for its Wednesday theme night known a Mambo Jambo. Mambo Jambo is generally called as Mambo nights. During Mambo nights DJ will play pop hits of 70s and 80s with house music and later they introduced rock, dance and hip hop.
Zouk has launched a sister club in Kuala Lumpur, Malaysia in 2004.
Zouk has got 6 times award for "Best Night Experience" from Singapore Tourism Board between the years 1996 to 2007.DJ's magazine had published the list of top hundred clubs in the world. Zouk Singapore ranked tenth position in the years 2006, 2007 and 2010. The contact information like email address, telephone number, website and postal cum official address of Zouk Singapore is mentioned in below section.
Sponsered Ads
Address of Zouk Singapore
The address of Zouk Singapore is 17, Jiak Kim Street, Singapore 169420.
Contact Number of Zouk Singapore
The contact number of Zouk Singapore is
+65 6738 2988,Fax + 65 6738 3988
.
Email Address of Zouk Singapore
The email address of Zouk Singapore is .
Website of Zouk Singapore
The Website of Zouk Singapore is
www.zoukclub.com
.
Sponsered Ads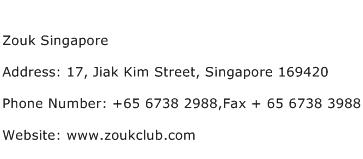 Rating of Zouk Singapore
3.4
Click Here

to add rating